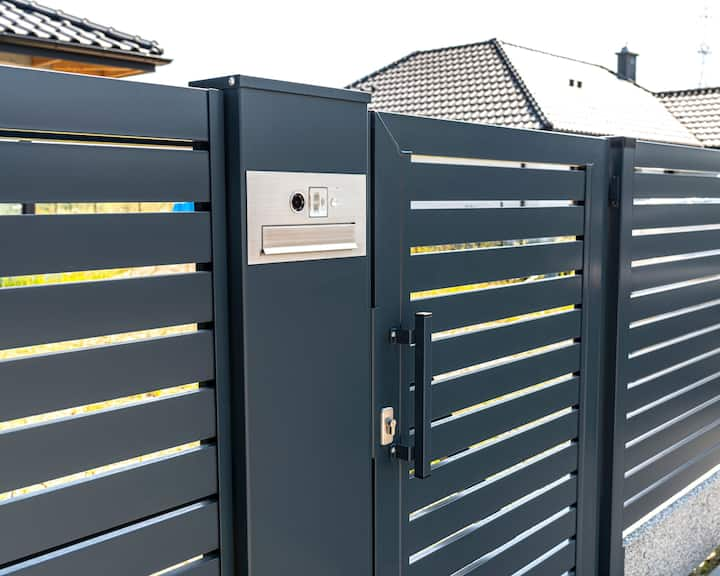 The importance of gate installation in Johnson City
The first thing that someone notices when they approach a gate is its design. The design of a gate serves many purposes, and its importance should not be underestimated. It can have an impact on the overall security of the area, as well as making it aesthetically pleasing. Additionally, it can also provide a sense of belonging to those who pass through it.
Step into a world of distinctive gate designs & premium materials
Johnson City Fencing Solutions offers a comprehensive range of gate designs and quality materials to meet the needs of any customer. From residential to commercial applications, our team of experienced professionals will help you find the perfect gate for your property. Whether you are in need of a driveway gate, a security fence, or a custom design for your landscaping, our pros have the products and services to get the job done right. Our solutions include expert installation and repair services so that your gates will last for years to come.
Get in Touch With Us
We want to hear from you about your gate installation and repair needs. No gate job in Johnson City is too big or too small for our experienced team!
Expert gate installation & repair services for homes & businesses
At Johnson City Fencing Solutions, our team understand why gate design is important for our customers. Our team strives to provide quality products and services that will give our clients the peace of mind they need when it comes to security. Our team specializes in designing privacy fence gates, security gates, and more that can be customized to suit the needs of any residential or commercial property. Our team of experts offer gate installation and repair services to ensure that your gate is properly installed and maintained over time. Our professional crew uses only the highest quality materials so you can rest assured that your gate will last for years to come. Our experienced professionals also make sure that all repairs are conducted in a timely manner so you don't have to worry about waiting too long for a solution. With Johnson City Fencing Solutions, you can trust us to provide the right gate design for your property needs.
 The numerous benefits of residential driveway gates
The benefits of having a residential driveway gate are numerous. First and foremost, they provide an extra layer of security for one's home. A well-designed gate has the ability to deter potential intruders while still allowing easy access for those who are allowed entry. Additionally, many gates can be controlled electronically by remote control or automated by an electric gate operator. This provides another level of convenience for homeowners who want to easily open and close their gate with the click of a button.
Explore the variety of styles and functions to suit your unique needs
Gates are an important part of a home's overall security system. They can be used to restrict access, protect property, and keep unwelcome visitors out. Gates come in many different types and styles, from the classic solid wooden swing gate to modern, automated slide gates with keypad entry systems. Swing gates are the most popular option for residential homes due to their simple installation process and low cost. Sliding gates are also becoming more popular for residential homes because of their ability to provide added security and convenience. Other types of gates available include chain-link fences, picket fences, electric fences, and even invisible barriers that use motion sensors or infrared beams to detect intruders.
Protect your property with maximum security and convenience
The security and safety of our homes is paramount. The type of gate choosen for our home is an important decision that should not be taken lightly. Security gates, also known as electric gates, provide an extra layer of protection to any home or property. They offer a variety of benefits:
 Added security:
Security gates are designed to deter intruders from entering your property. With the added level of protection, these gates can help prevent theft and vandalism.
Electric gates are equipped with features such as keypads, intercoms and video surveillance that can alert you when someone is attempting to gain entry without permission.
Many security gates are also made with materials such as steel or wrought iron that make them difficult to break through or climb over.
 Improved privacy:
Security gates create a barrier between you and the outside world, giving you more privacy when it comes to your home and property.
Also, they can block out noise from outside, giving you a more peaceful atmosphere in your own backyard.
Improved property value:
Installing a security gate on your property can increase its value by adding an extra layer of protection for potential buyers.
Furthermore, the aesthetic appeal of electric gates enhances the overall look and feel of any property, making it more attractive to potential buyers.
Things you need to know before installing a gate on your property
Before installing a gate, it is important to consider several factors that will determine its success. First, the purpose of the gate should be considered. Is it for security purposes or simply for decorative purposes? The style, size and materials of the gate should all be taken into account with regards to its intended use.
Secondly, it is essential to take into account the surrounding environment where the gate will be placed. This includes any nearby foliage or other permanent structures that could potentially interfere with the installation process, as well as how much sunlight and wind exposure it will receive. Any nearby sources of water should also be taken into account in order to ensure that the structure is not exposed to any potential water damage.
Guard your business with the best: commercial gates
When it comes to security, commercial establishments need to be particularly vigilant. The right gate design can help protect a business from potential theft or vandalism. It can also provide an inviting entranceway that welcomes customers and clients while still maintaining a secure perimeter.
The choice of gate material is an important consideration when choosing a commercial gate design. Steel gates offer unparalleled strength and durability, while wood offers the aesthetic value of classic styling. Aluminum gates are a popular option because they are lightweight yet strong and come in a variety of colors and finishes. Here are some key elements to consider when deciding on a commercial gate design:
Functionality: To ensure optimal security, make sure the gate is properly installed and equipped with the latest locking mechanisms.
Durability: Select materials that can withstand harsh weather conditions as well as regular use for long-term performance.
Visual Appeal: Ensure the gate design complements the aesthetics of your business property for maximum curb appeal.
When selecting a commercial gate design, it is essential to consider all aspects of function, durability, and style to create an inviting yet secure entranceway that enhances your business's reputation. By taking into account these factors, you can ensure that your commercial space is properly protected while providing an attractive focal point for visitors.
Unleash the full potential of your property with our experts
When it comes to installing and repairing gates, our fence company is the company of choice. Specializing in residential, commercial, and industrial fencing solutions, Johnson City Fencing Solutions provides a wide range of services that include design, installation and repair of gates. With years of experience in the industry, their team of professionals are highly trained and have the necessary knowledge and skills to provide quality service.